(NOTE: THIS GIVEAWAY HAS ENDED)
First off, I'd just like to say that this has been way over due, but I am happy that the day has finally arrived (the lovely pieces were ordered by yours truly from abroad)!
I've reached more than a 100 Followers... something I consider a milestone at blogging since I started about a month and 2 weeks ago. And for this I would like to send out a big warm embrace and say thank you to all you wonderful ladies for making this happen and taking the time to read what it is I write about - this truly means a lot to me.
So it's time to move on... I'd like to give a small introduction to the giveaway, which is for an inspired necklace from the House of Harlow 1960, a jewelry line by Nicole Richie. The item up for giveaway was inspired from the Station Necklace as can be seen on the picture below.
This particular piece has been sold out in most stores in the US and seems to be one of the most popular item of the said brand. I actually made a previous post on this particular item here. And since I love you all so much, there will be three (3) winners who stand the chance of winning this necklace (black and gold piece)!
Plus, the first two ladies who I draw up for the giveaway will be getting a bonus! I'm putting in two (2) of the scarves (Brand: Bennis Italy and Donatello): (1) colorful polka dots and (2) black with golden stripe flowers which I recently received from my aunt - with her consent of course (To see some photos of the scarves, Something New - scarf post here). This is going to be exciting!

TO JOIN THIS GIVEAWAY:
Mandatory Entry
You have to join this site on: Google Friend Connect
Bonus Entries: (*1 Bonus entry unless otherwise stated)

"Like" Not your Ordinary BeautyQueen on Facebook
"Blog" about this giveaway (Would appreciate a dedicated post.)

"Tweet" about this giveaway. 1 Bonus entry/day (Make sure you include:
@marmaarmaaar, so I see it.)
"Add" the giveaway button to your blog sidebar, after you have chosen to blog about it (Plus 3 bonus entries)
**Please don't forget to mention on the comment board of this post your scarf of choice! If your name was drawn and you did not mention which scarf you preferred, you will only receive the necklace, since I do not have a basis of knowing which scarf to send you.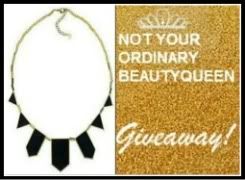 And
thank you very much for your unending support!